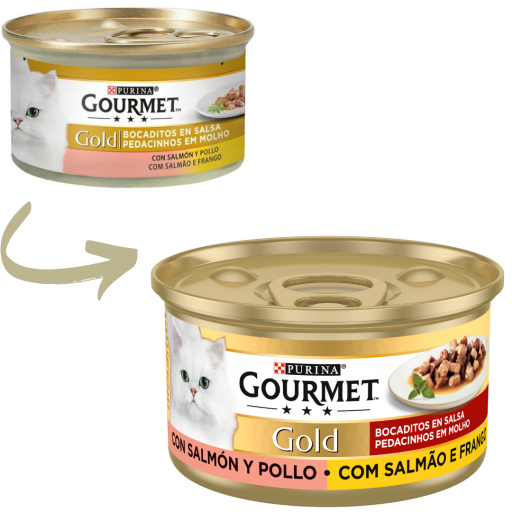 Description
Pack 4 With Salmon and Chicken in Gravy Gourmet
PURINA® GOURMET® Gold Snacks in Sauce with Salmon and Chicken 85g
Your cat is a true expert and likes to try different textures and flavors every day. That is why GOURMET Gold has created Bocaditos en Salsa, tasty recipes to pamper your sophisticated palate with a different flavor experience at each meal. Tender pieces with meat or fish sweetly cooked in a delicious sauce to offer your cat the pleasure of a fabulous and rich flavor.
Features and benefits
Gourmet is a 100% complete and balanced diet. It is also an important source of hydration for your cat. In addition, you will be giving it a varied diet in flavors and textures for your enjoyment!
100% complete and balanced food
Tender pieces with meats or fish carefully cooked in a delicious sauce to offer your cat the pleasure of a fabulous and rich flavor
- Made with high quality ingredients
- A unique culinary experience
- Complete food for adult cats
Ingredients and analytical components
Composition: Meat and animal by-products (of which chicken 4%), Fish and fish by-products (of which salmon 4%), Cereals, Minerals, Sugars.
Additives: Nutritional additives: IU / kg:
Vit. A: 625;
Vit. D3: 95;
mg / kg: Ferrous Sulfate Monohydrate: 22.1;
Anhydrous calcium iodate: 0.28;
Cupric sulfate pentahydrate: 2.5;
Manganous Sulfate Monohydrate: 4.3;
Zinc Sulfate Monohydrate: 36;
Analytical components: Humidity: 82.0%, Crude protein: 7.0%, Crude oils and fats: 3.2%, Crude ash: 2.1%, Crude fibers: 0.07%.
Daily ration and method of use
Instructions for use and recommended daily ration:
For an average adult cat (4kg) serve 4 cans a day in at least 2 separate meals. Individual needs vary and the amount of feed should be conveniently adjusted to keep your cat at a healthy and lean body weight. For pregnant or lactating cats: leave to eat at will. Serve at room temperature. Always leave clean, fresh water at your disposal.
- Preferably use before, registration number and batch number: see on the packaging.
- Please keep the can closed in a cool dry place
Features
Pack 4 With Salmon and Chicken in Gravy Gourmet
Reference

80361497

Weight

85 GR

Product Range

Gourmet Gold

Brand

Gourmet

Nutritional Conditions

0

Age

Adult

Flavor

Chicken,

Special Cares

Format

Can
Customer Reviews
Pack 4 With Salmon and Chicken in Gravy Gourmet